Foundations in Christ Workshop
"Anyone in Christ is a new creation:  the old has passed away; behold, the new has come!"  – 2 Corinthians 5:17
We all have lenses through which we view life and its circumstances.  The Foundations in Christ workshop is an opportunity to take a closer look at our perspectives and how they impact our awareness of God, ourselves, and reality.
In this workshop adults come together to explore—in practical ways—core issues of faith and daily life with God.  The workshop focuses on the presence and activity of God and the freedom God gives us for new life in Christ.  So we explore questions that cut to the heart of faith—questions like:
"How does God interact with us on a daily basis?"
"What if my spiritual life sometimes feels stagnant—like I'm not close to God?"
"Where is God in the midst of suffering?"
"Why does the work of discipleship at times seem like a burden?"
"Can I really rely on God's grace?"
Expecting the Holy Spirit to work among us, this workshop offers time and space to learn about God and ourselves in fresh ways.  Through a variety of approaches—including interactive presentations, exercises, and group discussions—we examine practical cornerstones of our faith and explore how Christ sets us free in extraordinary ways.  What each person discovers in the workshop is, by God's grace, specific and unique to them.
The workshop takes place over two weekends:  Friday 6:00 to 9:00 p.m.; Saturday 9:00 a.m. to 3:30 p.m.; and Sunday 9:00 a.m. to 3:30 p.m. both weekends, with a weekend off in between.  Lunch is provided.  On the two Sunday mornings, the group worships with the host congregation.  In addition to the workshop facilitators, participants receive assistance from trained small group "Guides."
Participant Reviews
"I enjoyed these weekends more than I can say.  I feel free in ways I can't describe.  It's like there have been kernels of ideas in my head all my life that are finally, FINALLY, popping!"
-Elizabeth, Westminster Presbyterian Church
"The Foundations workshop was a true blessing to me. The Lord opened my heart to Jesus Christ acting through the presence of the Holy Spirit in the here and now in my life and in the lives of those around me, in the midst of the train wreck.  Participating renewed a glimpse of the sacred in everyday life."
-Paul, Covenant Presbyterian Church
"My whole life I've had these pieces of what I believe—like a steering wheel here and a front bumper there—but this is the first time I've finally been able to see the pieces snapped together and an outline of the whole car!"
-Jennifer, Community in Christ Lutheran Church
"In Foundations, God met me where I was.  Participating in this workshop was one of the most transformational and sustainable experiences of my life."
–Marcy, Sharon Presbyterian Church
Link to Answers to Common Questions about the Foundations in Christ Workshop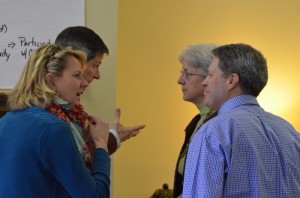 Registration Information
ICSM currently offers the Foundations in Christ workshop to the public two times a year.
The fall Foundations workshop will be held the weekends of September 14-16 and September 28-30, 2018, at ICSM's offices in south Charlotte (7615 Colony Road, Suite 210).
ICSM is currently taking registrations for the 2018 fall Foundations workshop.
Fees help defray expenses and make future workshops possible.  Participants may choose an amount suitable to them, and full scholarships are available upon request.  Suggestions:  $100 (annual income less than $50,000), $200 (annual income $50-$100,000), $300 (annual income more than $100,000).
Foundations workshops are limited to 15 participants, so early registration is encouraged. To register, please complete and submit an online Registration Form or contact Marcy Doak at Marcy@InChristSupportingMinistries.org or 704-554-2490.
For more information, please contact Rev. Sarah Kromer at 704-554-2490 or Sarah@InChristSupportingMinistries.org.
Foundations in Christ Workshops for Groups
Attending a Foundations in Christ workshop together as a small group offers a common language and bedrock for the group to engage more deeply in conversation, Bible study, and discipleship together following the workshop.  For church leaders, staff members, and teachers, the Foundations workshop provides a base of practical knowledge and tools for teaching and leading others in the church.  If you are interested in bringing a Foundations workshop to your church or want to attend as a group, contact Rev. Sarah Kromer at 704-554-2490 or Sarah@InChristSupportingMinistries.org.